Welcome to Higher Design, PLLC
Welcome to the web-site for Higher Design, PLLC, a full service Civil Engineering and Land Planning firm that was established in 2005. Higher Design, PLLC is located in Rindge, in the beautiful monadnock region of New Hampshire. (Directions).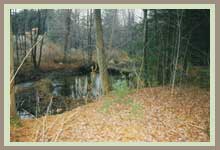 With a Licensed Professional Engineer in the State of New Hampshire as well as a Licensed Septic System Designer on staff, Higher Design is well qualified to meet all of your Land Development needs. The staff of Higher Design has a background in the construction and building industry as well as in the Engineering Design field which brings practical experience to each and every design project. If you are considering developing a piece of property and are looking for a professional and practical design firm to assist you in your land development needs, give us a call and we can discuss your options.